Karen Tax & Associates
The first thing you might want to know about me (Karen) is that I love to collaborate with other people. It's taken me a while to figure out how to make this work, without employees, without rigid and formal partnerships, working with lots of different people with flexibility and joy. I love freedom and fluidity in my work with others – and so I've figured out a way for this to happen!
"The Associates" part of KT&A is documented on my IAM website on the Your Guides -> About Us page. People come and go from the group as they please – you'll see this page staying the same and changing – and we like that! My Associates are making choices that are right for themselves, their work and their clients.
Karen's Expertise
"From Chaos To Creativity " is at the core of what I offer every client. In addition, I bring the following expertise to partner with clients in creating "Holistic Business and Life Strategies":
CoachU graduate – coaching training;
M.S. in Organization Development, knowledge of how to navigate corporate complexities, systems thinker, knowledge of group process;
3 business start-ups: 2 failures with lots of learning and one thriving consulting and coaching business;
B.S. in Computer Science and a love of technology;
15 years experience in corporate high tech;
Mentor coach for the NC State Business Coaching program;
Center for Creative Leadership (CCL) trained and Benchmarks certified;
Many years of experience with Myers-Briggs Type Indicator concepts;
Experience in business start-up and job search during economic lows;
2 major career transitions, from software engineer to organization development consultant, to coach and free agent;
Experience in diverse and flexible work styles;
A lifetime of financial knowledge and discipline, using Quicken and Quickbooks;
A natural organizer with skills to help you tame your clutter;
Conscious Relationship trained, experience in a loving marriage, family and extended community;
Website development and online marketing;
Extensive experience with on-line communities and software;
Excellent listening, communication and interpersonal skills;
A passion for learning and experimentation.
Who is Karen?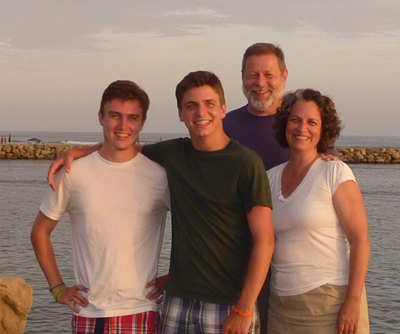 My own business and life journey has been a perfect lesson about becoming whole and using holistic approaches. Learning holistic strategies to both life and business, and then using these approaches to help evolve people, businesses and the consciousness of the planet is my purpose. My story here goes into more of how I arrived at this place in my life.
Besides my relationship with Spirit, the most important person in my life is my beloved husband Jan. He's a big Dutch bear of a guy who makes me laugh, listens and supports me in everything I do.
My children are two of my greatest teachers. They naturally tell the truth and know who they are. They are beautiful and wonderful beings!
I can be a consultant and coach because of Jan and my kids. Thanks guys!